India's hot radio station Radio Mirchi has launched Mirchi Mobile in partnership with country's largest telecom operator, Bharti Airtel. This will allow Airtel's customers to access Radio Mirchi stations of 12 regions in the country.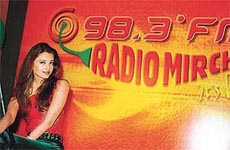 The service called Mirchi Mobile, will be hosted on a technology platform developed by Spice Digital.
"Mobile radio is going to be a good business proposition in coming months. We want to leverage it now. Radio is a very big draw among the Indian population," said Radio Mirchi CEO, Prashant Pandey.
Meanwhile, the radio channel is also looking at tying up with other mobile service providers in the country to expand its network.
Radio Mirchi was initially known as Times FM. It operated under the brand name Radio Mirchi in 2000. Currently, it has large presence in cities like Delhi, Mumbai and Indore.