Monday, September 21, 2009
The Dallas Cowboys have always had cheerleaders. As was the standard in professional football throughout the 1960's, the CowBelles & Beaux were high school students from the Dallas/Ft. Worth Metroplex managed by Dee Brock. They cheered on the football teams success all the way to the 1971 Super Bowl Championship. But, during the Cowboys preparations for the defense of their World Championship title in the 1972 season, a new idea was born.
Tex Schramm was the Cowboys general manager and, with his extensive background in television, recognized that professional football had become more than sports - it was sports entertainment. He knew that the public liked pretty girls. In fact, he'd already tried hiring professional models for the sidelines. It was a disaster. The models were beautiful, but they were not athletes. More than 3 hours of exertion in the hundred degree heat of the sidelines had left them in worse shape after the game than the football players. But, the idea just would not go away. Models had not worked, but what about dancers?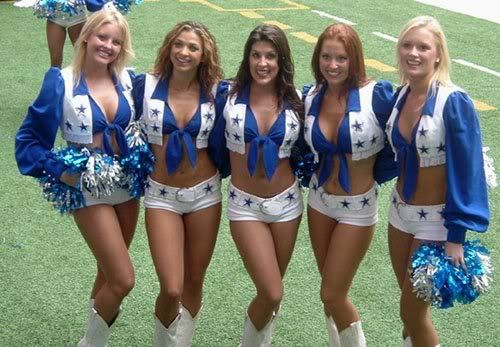 He talked the idea over with Dee and the decision was made to expand the established football tradition of sideline cheerleaders into a glamorous, choreographed squad of accomplished dancers that would serve as a counterpoint to the game itself. Dee recruited one of the top dancers in America, Texie Waterman, who also owned a dance studio in Dallas, to judge at the auditions and help create a squad of dancers to grace the sidelines of Texas Stadium. Sixty ladies attended that first audition. Seven were chosen. They spent their summer at Training Camp with Texie where cheers and chants were replaced with grand jetes and pirouettes.When the 1972-73 NFL season kicked off that fall, it was a major turning point in Cheerleader history. The Dallas Cowboys introduced their "new" Cheerleaders at Texas Stadium wearing new star spangled uniforms and debuting an innovative and exciting new form of gameday action. For the first time ever, anywhere, jazz dancing was blended with beauty and brought to a football field...and the Dallas Cowboys Cheerleaders were born.